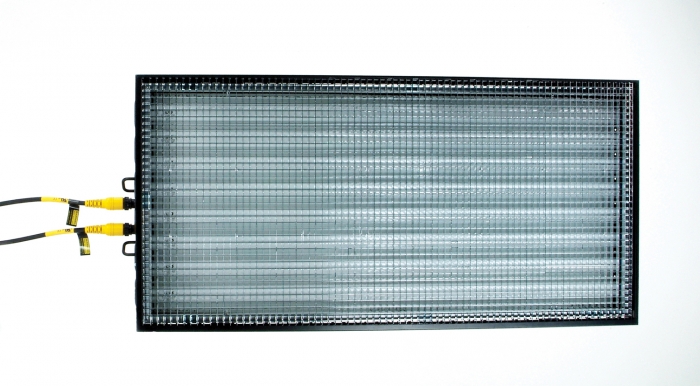 Flathead 80 Fixture w/ Gel Frame and Louver/Silver
Manufacturer: Kino Flo
Product Code: CFX-4808
The Flathead 80 fixture houses the lamps and is comprised of a removable Gel Frame, Louver and Cardholders (x4). The gel frame is secured to the fixture by four spring loaded pins. The louver is held in place by a set of leaf springs.
The fixtures can take a variety of lamps. They can be used as a daylight source by using Kino Flo KF55 lamps or a tungsten source using Kino Flo KF32 lamps. Visual effects lamps for blue and green screen and a variety of designer colors are also available.
Kino Flo lamps are color-correct and safety-sleeved. The lamps are safety-sleeved because the lamps are often changed out. The safety-sleeving offers protection for the user as well as the talent on the set.
One of the design features that makes the fixture so popular is the twist-on removable Center Mount (MTP-K81). When it's on, the fixture mounts easily to a light stand; when it's off, the fixture is flat and can be hand-held, or hidden in a space too small to place a stand-mounting fixture. The screw holes along the back of the fixture are designed to allow the fixture to be screwed to a wall or ceiling.
The Flathead 80 has a removable twist-on Center Mount (MTP-K81). The mount has a junior pin (28mm) to mount onto a junior stand or into any junior pin receiver. The mount is at an 85° angle so that it gives a good range of movement.
• 8-Lamp remote fixture
• Fixture includes Reflector, Louver, and Cardholders
• Same fixture takes daylight and tungsten lamps, plus visual effects color lamps
• Mounts to junior stand or light enough to screw to a wall or ceiling
• Removable center mount
• Fixture runs up to 75 feet (24 meters) from ballast
• Using two 4Bank ballasts, low amperage draw at 5.2A/120VAC, 2.8A/230VAC
• Operates at 1/3 the power of conventional tungsten softlighs
• UL listed, CE approved
Fixture: Flathead 80
Part Number: CFX-4808
Lamps: 8
Lamp Type: F75/T12
Dimensions: 129.5 x 61 x 10cm (51 x 24 x 4")
Weight w/Lamps: 12kg (27lb)
If you would like any more information on our products, please drop us an email or call us on:
+44 (0) 20 8955 6700