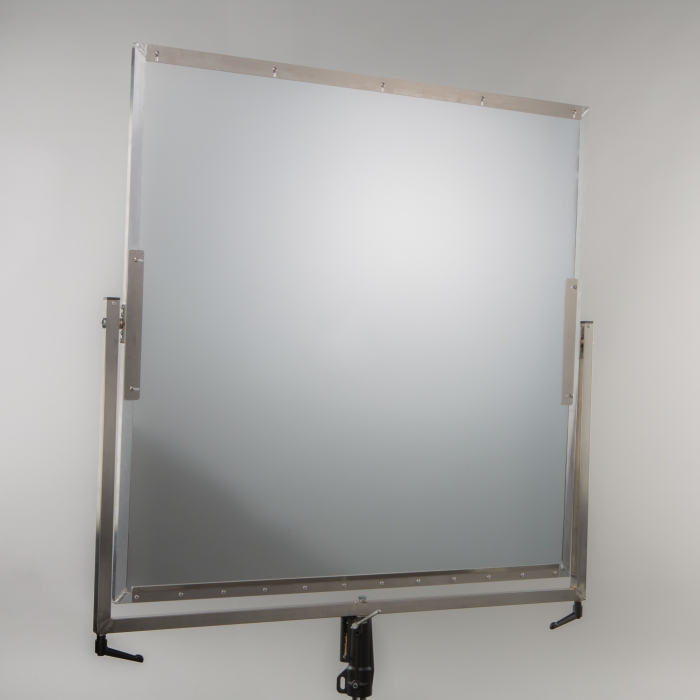 100cm x 100cm Lightream Reflector
Manufacturer: Dedolight
Product Code: DLR1-100X100
Lightstream Reflector - 100x100 cm
Front surface: Reflector #1
Rear surface: Reflector #4
The high efficiency of these reflectors within this system derives from reflective values, where approx. 95-98% of the light can be effectively reflected.
When used with Parallel Beam adaptors the quality of the light and shadows become uniquley realistic
There are two different reflector types on this panel, featuring different reflecting surfaces.
Reflector #1 is the closest to a very hard reflector, but it is not a mirror. A fully functional mirror usually would not work well for this kind of lighting system, it would not redirect the incoming light, the beam with sufficient homogeneity.
Reflector #4 produces seemingly the most gentle reflection, covers an angle of 95°, and thus, lower values of light level reaching the object, and the virtual light source now, coming very close to the reflector surface, only 4cm behind the reflector.
Customised version available upon request
If you would like any more information on our products, please drop us an email or call us on:
+44 (0) 20 8955 6700