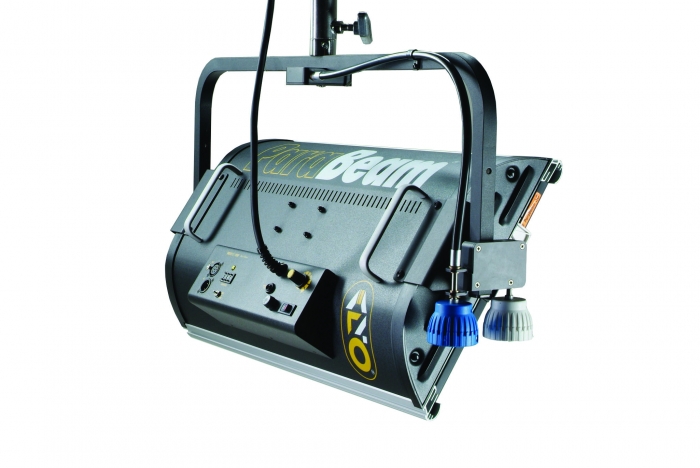 ParaBeam 210 DMX Pole-Op, 230VAC
Manufacturer: Kino Flo
Product Code: PAR-210P-230
The ParaBeam 410 and 210 studio fixtures display about the same amount of soft light as a 2,000 Watt and 1,000 Watt tungsten light, respectively. But ParaBeams only use 1/4th as much power! Both studio lights take Kino Flo True Match®
high colour rendering lamps (CR I95).

The soft beam actually can be focused for a wide variety of set lighting looks, from lighting four people across a news desk to spotting down to a single subject.
• Low amperage draw, energy savings
• Long lamp life, low lamp replacements, low maintenance labour
• Low operating temperature
• Low air-conditioning costs
• More efficient heat management design for stable colour temperature
• Full spectrum (CRI 95) lamps available in 3200K and 5500K
• Kino Flo lamps also available in 420nm blue and 550nm green for blue and green screen applications.
• High colour rendering True Match lamps work well alongside conventional quartz lights or HMI's
• DMX control for stable colour temperature and light level control
• Colour gels do not burn out or fade due to lower heat of fixture
• Centre mount for horizontal and vertical axes rotation, Yoke Mount and Pole Operation
• Quick ballast maintenance
• Honeycomb louvers 90°, 60° and 45° reduce the need for barndoors
• Slender design for a less crowded lighting grid
ParaBeam 210 DMX Pole-Op
Input Voltage: 230VAC
Output Frequency: 30kHz
Amperage: .6A - 240VAC
Dimming Range: 100%-5%
Lamp Switching: 2 - off
Lamps: 2 x 55W CFL
Dimensions: 75 x 41 x 15cm
Weight: 8kg
If you would like any more information on our products, please drop us an email or call us on:
+44 (0) 20 8955 6700