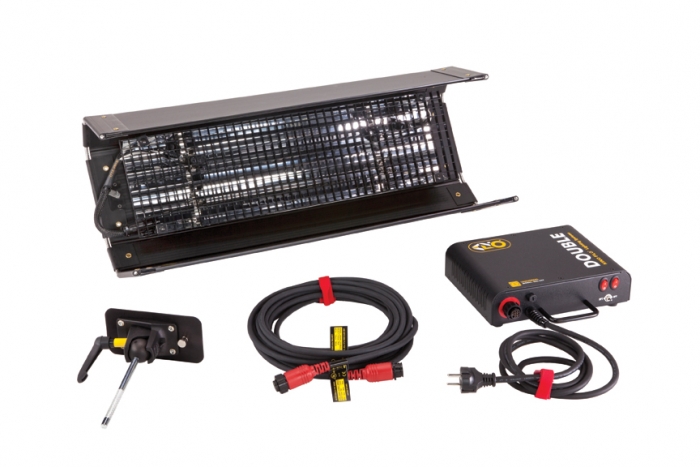 2ft Double System, Univ 230U
Manufacturer: Kino Flo
Product Code: SYS-2402-230U
The Double System is a softlight source that can be plugged into a wall socket on location. With its narrow profile and size, the Double can approximate the quality of light from bounced sources without losing set space.
The first thing to note about the Double System is that it consists of four components: Double Fixture, Mounting Plate, Ballast and Extension Cable. It was designed in this manner to allow the greatest flexibility when working on film production where the gaffer and DP are constantly being challenged to light unique locations and problem solve at a moment's notice.

Great for key lighting and fill, the 2ft Double is one of the most versatile products in the Kino Flo product range and was one of the first products developed by Kino Flo more than 25 years ago.
• 2-Lamp remote fixture w/ built-in barndoors
• Fixture includes Reflector, Louver, and removable Harness
• Same fixture takes daylight and tungsten lamps, plus visual effects color lamps
• Mounts to stand, light enough to tape to wall
• Removable center mount
• Fixture or lamps w/ harness run up to 75 feet (24 meters) from ballast
• High output, flicker-free ballasts
• Universal input voltage from 100-240VAC can be used anywhere in the world
• Instant-on, dead quiet
• Individual lamp switching - no color shift
• HO/Std switching
• Low amperage draw at 0.7A/230VAC
• Same ballast runs 4ft and 2ft lamps
• UL listed, CE approved
Dimensions
27 x 7.5 x 3.5" w/6" barndoors
(68.5 x 19 x 9 cm w/15cm barndoors)
Weight
4.7 lb (2.1kg)
Lamp Type
F40 / T12
Lamps
2
If you would like any more information on our products, please drop us an email or call us on:
+44 (0) 20 8955 6700