Dedolight Competition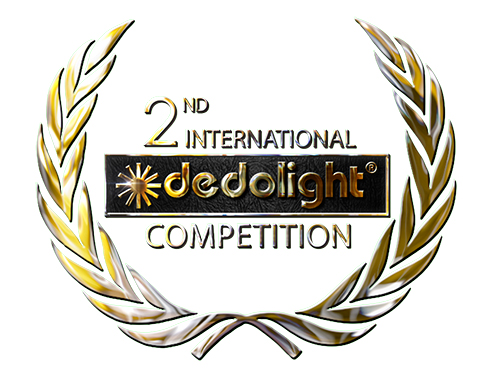 Introducing the 2nd International dedolight Lighting Competition
We are challenging everybody, be it professionals, be it students, teachers or beginners, to participate in this competition. The aim of this competition is to further our deep dedication to the educational approach – LET US LEARN FROM EACH OTHER.
When we had our first competition about 3 years ago we received more than 250 entries from all over the world. Most of those were absolutely amazing and ingenious in their creativity, their mood and most of them also regarding the educational value.
International dedolight competition 2015 – best of mix: https://www.youtube.com/watch?v=rUbBzG5CSFI
Message from Dedo
'The main driving force behind this competition is my personal commitment to the educational approach. I grew up in a country where, at that time, there was not a single film school, but I found wonderful, very capable and patient teachers whom I owe a lot. This is the reason why I want to pass on what I have learnt, hopefully creating something like a chain reaction where all of us can benefit from the experience, the creativity and the ingenuity of each other.
There are many different aspects of lighting. You can find light, you can create light in many different ways; there are many specialties in an endless variety.'
How to participate?
1. For the UK and Ireland entries request to register by sending an email to competition@cirrolite.com by the 31st of October. We will reply with full registration details and form for you to complete. We reserve the right to stop the registrations earlier if the amount of entries exceed the number of available loan equipment.
2. We will provide the equipment on a loan for you. The list of available equipment. You will have to take care of collecting it from us in NW London.
3. You return the equipment to Cirro Lite after the agreed period. We urge you to take care of the equipment as best as you can.
4. You deliver the video, showing your ability, creativity and the mastering of story-telling. You upload your video on YouTube and/or Vimeo and pass on the link to us on competition@cirrolite.com and competition@dedoweigertfilm.de. Deadline is April 30th, 2020. Video must be uploaded till that date on YouTube or Vimeo.
5. The first evaluation will be made by our local jury. The second evaluation will be done by the international jury of professionals and teachers.
6. The goal of the competition is to create teaching devices for creatives all over the world. Therefore please upload your video under the Creative Commons licence (CC BY 4.0 / https://creativecommons.org/licenses/by/4.0/). With all videos chosen for tutorials, your name, or if you prefer your company name, organization or school, will be mentioned.
Results and Prizes
We are offering 30 prizes with a total value of over £100,000. The full list of prizes.
You will be informed about the prize that you have won. Looking at the list of prizes, you can discuss with us whether you might want to choose another category. Upwards from your position there are more expensive prizes, so you can choose anything that is down from your particular position on the list of winners (if better suited for your work / wishes).
Who can participate?
Everyone – from the experienced professional, the teacher, the student, the beginner, the specialist, to single person or team. Could be a subject for a task in a film school, could follow personal initiative or following a teacher's guidance.
Subjects for your Videos
You are totally free to choose. It could be people, portraits, mood, drama, animation, or very special approaches.
The Evaluation Criteria
The esthetic value / impression of your image(s), the value of your contribution by creativity, ingeniousness, mood (message). Our expectation, the demand and the CONDITION is:
You clearly explain step by step how you achieved your lighting and your image composition, so that the viewer can understand to the extent that in the end he will say: 'I understood and I can do that myself'.
Thus, we want to fulfill our dream of the educational approach, teaching each other, learning from each other the incredible variety of this wonderful profession.
Eligible Countries
The competition is handled and managed through the worldwide network of Dedolight distributors. Cirro Lite is handling the submissions from UK and Ireland. If you are based outside this area please contact your local Dedolight distributor.
UK Judge
We are delighted to announce the UK Judge of the Dedolight Competition: cinematographer Stuart Harris.

Stuart Harris began his career at Elstree studios. He worked on many TV productions before working on films including Stanley Kubrick's 2001, Ken Russell's The Boyfriend and Peter Hall's Three into Two Won't Go. He became an award winning cinematographer photographing David Hare's Wetherby which won him the coveted Golden Bear Award at the Berlin Film Festival.

Stuart then went on to win many awards for his creative work on commercials and music videos throughout the world. He is particularly proud of his work with the late legendary Storm Thorgerson.

Stuart is currently the co-head of cinematography at the National Film and Television School (NFTS) as well as the head of a new NFTS D&AD sponsored course Directing Commercials.

He continues to be an active cinematographer.
Frequently Asked Questions
When can I start shooting? Can I start next week?
You can shoot your film any time between the beginning of January and the end of April. We have to collect all the requests for the equipment and place the order with Dedolight. Dedolight then have to manufacture and ship it to us. That's why we need all this time until the end of the year in order to have all the equipment ready.
You can shoot earlier if you wish but you won't be eligible for the free loan equipment.

What if I need some other accessories that are not on the list?
We can put the special request forward to Dedolight and see if they would be able to supply it. Please put all the special requests to the 'Other' box in the online form.

Can I use other manufacturer's lighting?
It's a Dedolight competition and the Dedolight units should be the major lighting sources. However, you are allowed to use other light sources to complement the main lighting (for example illuminating backgrounds, adding practicals, etc.).

Can I use my own Dedolight kit? / Can I borrow it from my friend? / Can I rent it?
Yes, absolutely.

How long can I keep the equipment for?
It really depends on your subject. We expect that you plan the production accordingly and won't keep the equipment for longer than a week or two. We will have a limited amount of kits that we will need to share with all the participants. Of course, there may be exceptions where you'd require the equipment longer, for example stop motion animation. That is understandable.

Do I have to collect the equipment from you myself?
Yes. You can collect the equipment from our North West London warehouse yourself or send your preferred courier/van.
Same goes to the return of the kit after your shoot - you'll need to return it to us.

How accurate my shooting dates have to be at this point?
As accurate as possible. We understand that it may be hard to plan a few months in advance but we also have to plan the distribution of the kits which isn't easy either! If for some reason you have to move the production dates we can try to accommodate, depending on the other productions and availability of the specific equipment.

Are there any limitations on the subject of my film?
Not at all - keep your creative juices flowing!

Does it have to be a lighting tutorial?
Not necessarily. You can choose to shoot a narrative and add a 'behind the scenes' clip at the end, present lighting diagrams, interviews with DoP, etc.
Whatever format you choose, the main evaluation criteria is to follow the 'educational approach' where you clearly explain how you achieved your lighting and pass this knowledge to the others.

What will happen with my film if it gets shortlisted? Will I have to give up the ownership?
Not at all - you will remain the owner of your film. Dedolight might choose to share your film on their YouTube channel and social media as lighting tutorial and give you the credit. Therefore you should upload your film under the Creative Commons Licence CC BY 4.0.