About Us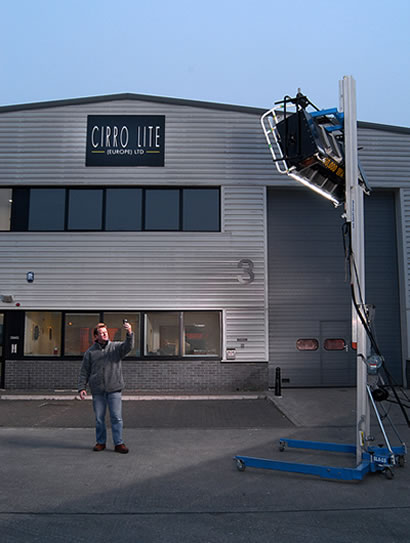 Cirro Lite provide a comprehensive service for those looking for lighting for film, television, video production and still photography where special lighting effects or a controllable precision light source is required.
The range of products we offer include:
Kino Flo – LED lighting equipment for film, video, TV broadcast and digital imaging production.
Dedolight – precision lighting instruments and accessories for film, television, still photography, display and architectural applications.
Matthews Studio Equipment – high quality grip equipment, lighting and camera support.
Fiilex - advanced LED lights for film and photography featuring Dense Matrix LED technology.
ProFound - high quality flexible LED lights for video, broadcast and photography.
Cirro Mist – safe fine light mist machines for video, TV and live productions.
Lightning Strikes – lightning effects for sets, locations and concert stages.
SoftSun - high intensity lighting systems for motion picture, TV, live events and high-speed testing applications.
Lighttools – Soft Egg Crates for use on Lightbanks, Lowel Rifa-lites, Westcott Scrim Jim, Butterfly and Overhead Frames and Kino Flo Blanket-Lites.
Photoflex – high-quality, versatile lighting equipment for photography, video, film, and digital imaging.
In addition to the lighting products for film, television, video and still photography, lighting kits, projector kits and accessories for sale, we also offer a lighting design service including studio design and audio visual lighting design as well as lighting equipment for hire from a large rental stock for the UK market. We also hold lighting seminars, workshops and other educational events.
If you would like to find out more about what we do and how we can help you, please drop us an email or call us on:
+44 (0) 20 8955 6700